Circuit Pad
| | | |
| --- | --- | --- |
| | If you find this to be useful software, please make a donation to help me justify the time spent in development. | |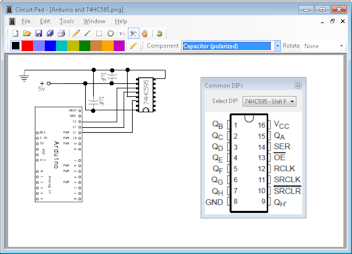 Circuit Pad is a tool for drawing circuit diagrams (otherwise known as schematics) for electronic circuits.
It allows you to easily drop circuit components onto your drawings and make all the connections to design your own electronics projects. Other features include resistor and capacitor coding references as well as calculators for working with many of the formulas commonly encountered in the field of electronics.
Some of these features are:
Easy drawing of various circuit symbols and lines to create a schematic.
Select and move sections of your diagram around within the circuit.
Resize the canvas for your drawing if you start running out of space.
Easily look up resistor color codes and capacitor codes.
View pinouts for a number of commonly used DIPs.
Easily calculate values for formulas such as Ohm's Law, Joule's Law, Reactive Capacitance, etc.
Looking for technical support with this software? Please visit our Support page!
---


| Home | Products |

Copyright © 2001-2021 - Hunin Software
Last updated: Jan 01 1970 00:00:00 GMT